This is the third episode of Season 3 and the eighteenth of the series. Bviomario and Luigi fight! Bviomario has no choice but to defeat him! He wins all 3 Smash Fights. One in Shadow Kingdom, one on the castle roof and the last in a volcano. Meanwhile, Masterslam132 and Landongames are holding off the remaining Pikachu's and Donkey Kong, while BioVSMario follows Bviomario to see if there's nothing wrong. When ShadowMario hears that his army is defeated, he seemingly kills Luigi for being 'not needed'. Bviomario sees this and his rage explodes when transforming into a legendary fighter called 'Superstar Mario'. He then attacks ShadowMario and wins. BioVSMario saw everything, but ShadowMario says he hasn't lost yet, and transforms into ShadowStar ShadowMario, an alternate version of the Superstar, and attacks Bviomario.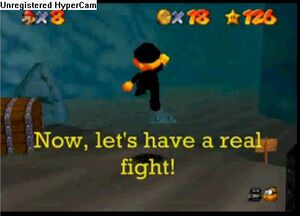 BioVSMario wants to help, but they already started. He then meets Lorii005, one of Bviomario's best friends, who came to the castle after Bviomario evacuated it, and challenges Bvioluigi, who is ShadowMario's slave. The episode ends.
Ad blocker interference detected!
Wikia is a free-to-use site that makes money from advertising. We have a modified experience for viewers using ad blockers

Wikia is not accessible if you've made further modifications. Remove the custom ad blocker rule(s) and the page will load as expected.